The underground network of the city of Buenos Aires, is known as Subte, and consists of six lines which also form part of a network of light rail with two branches, the Premetro.
The Subte in Buenos Aires is the oldest underground network throughout all Latin America, the first of its lines, Line A was opened in 1913 and is almost centenary.
It is owned by the Buenos Aires Subway SE, a local government company but since 1994 operates under administrative concession by the private operator Metrovías, which holds the concession until 31 December 2017. Buenos Aires also has other rail mass transportation in addition to the subway. Adding all the systems (subway, premetro and commuter rail ) the metropolitan network of Buenos Aires rail exceeds 880 km long and transports annually around 700 million passengers, around 900,000 passengers a day.
Buenos Aires Metro Lines
The Buenos Aires Metro networkconsists of 6 lines (A, B, C, D, E and H) with 60 km long and 78 stations. In order of antiquity, are:
Line A, Light Blue, this line is almost centenary, was the first to start operating in 1913, with a route that runs from the Plaza de Mayo to Carabobo, with 8.5 kms, 16 stations and more than 300,000 passengers per day.
Line B, Red, opened in 1930, and makes the journey from N.Alem Leandro to Los Incas , runinig a distance of about 10 kms with 15 stations. It is one of the lines transporting a greater number of passengers, more than 410,000 a day.
Line C, Blue, opened in 1934, and has the tour, Retiro to Constitución, with 4.5 kms of travel, 9 stations and 340,000 passengers per day.
Line D, Green, opened in 1937, this is the line which carries more travelers. Makes the travel Congress to Tucuman Cathedral, with 10 kms and 16 stations.
Line E, Violet was opened in 1944 and makes the tour from Bolivar to Plaza of Viceroys, with 9.6 kms and 15 stations.
Line H, Yellow, opened in 2007, and so far is the younger line. Makes the trip Corrientes to Parque Patricios, with 4.5 km and 7 stations. Is the line with less traffic of travelers
Future expansions:
Are also planned three lines to be built in the medium term, if keeping current construction plans, when completed the new lines, the Metro will have a total length of 75 km in length (not including extensions of existing lines or the Premetro ), and will have 127 stations.
Curiosities:
From its beginnings, the Subte has been commitment to the culture, and its space has been offered to be a display of various disciplines. Therefore in its facilities can be found sculptures, original murals and reproductions.
Opening Hours
The network now opens at 05:00 am and closes its lines between 22:00 and 23:00 hours.
Frequency of service
Depending on the line ranges from 3-6 minutes during rush hour to 9 minutes outside of rush hour. Holidays the frequency varies from 7 to 9 minutes.
Fares and Tickets
Currently operating with cash cards and cards SUBE (E-Ticket Single System) is a system that allows pay with a single smart card, travel on buses, subways and train stations attached to the Red SUBE, on public transport of the Buenos Aires Metropolitan Area (AMBA). From March 3, 2012, to obtain the card for the first time you have to pay ARS 15.00 and after obtaining the card, the user must perform an initial load with cash at any of the load centers willing to that end, with an amount of up to ARS 2.00 to ARS 100.
The new rate for subway service and Premetro is ARS 2.50 since January 2012.
(note: one euro equals about ARS 6.30 in dic.2012)
Airport
Minister Pistarini International Airport (Ezeiza International Airport) is located in the suburb of Ezeiza, located twenty miles west of the City of Buenos Aires.
At Ezeiza Airport there is no service neither for metro nor train to the airport. There are three bus lines in charge of public transport: line 86 leads directly to the city center stopping in Plaza de Mayo. The line will 394 will get you to Monte Grande Station and Camino de Cintura. Line 51 will take you to Constitution. It is definitely the most economical mean of transportation, the ticket costs ARS 1.35.
Subte Metro Map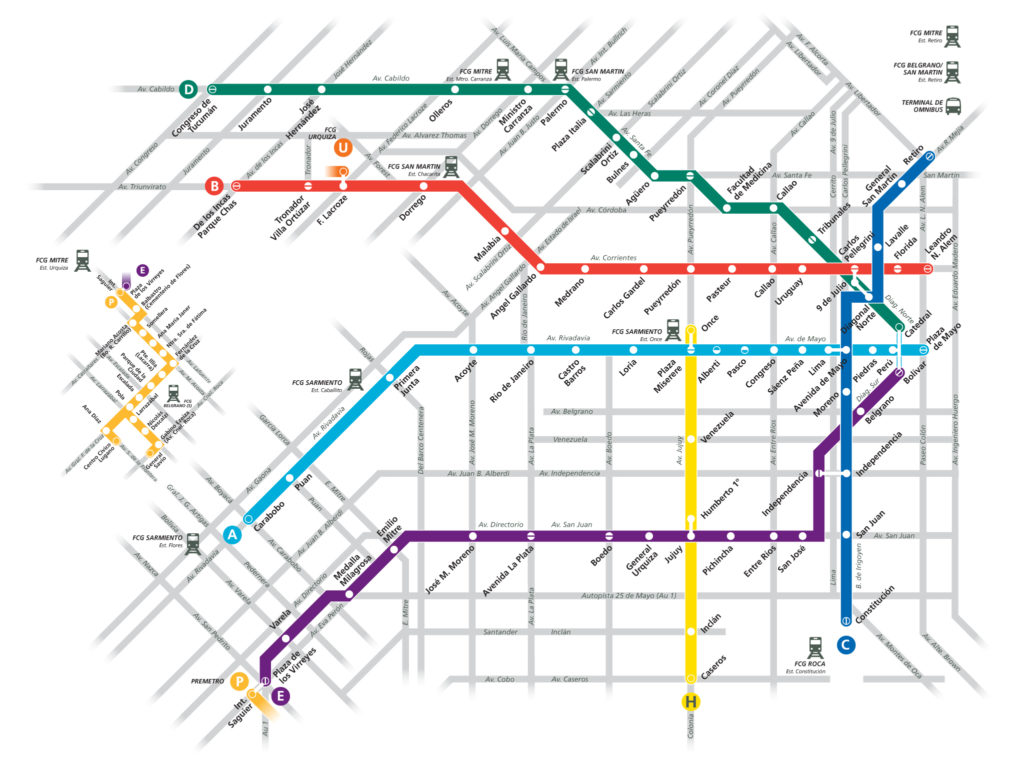 This post is also available in: French German Spanish Portuguese (Brazil)