Rome's subway system has just 2 underground lines, line A and line B, which cover a total area of 38 kms.
There are also three other suburban lines, which are operated by Met.Ro SpA and 8 regional lines with a high frequency service, called FR lines (State Railways). All these lines form an integrated fare system.
Line A, which opened in February 1980, goes through the city on a northwest to southeast diagonal. It has 27 stations. Header stations are Battistini (in Boccea) and Anagnina (at Osteria del Curato). It's the orange line.
Line B crosses the city from north to south and goes parallel to the River Tiber. Header stations are Rebibbia and Laurentina. There are a total of 22 stations. It's the blue line.
Rome metro stations
– Line A stations:
Battistini, Cornelia, Baldo degli Ubaldi, Valle Aurelia, Cipro-Musei Vaticani, Ottaviano-San Pietro, Lepanto, Flaminio-Piazza del Popolo, Spagna, Barberini – Fontana di Trevi, Repubblica-Teatro dell'Opera, Termini, Vittorio Emanuele, Manzoni, San Giovanni, Re di Roma, Ponte Lungo, Furio Camillo, Colli Albani-Parco Appia Antica, Arco di Travertino, Porta Furba-Quadraro, Numidio Quadrato, Lucio Sestio, Giulio Agricola, Subaugusta, Cinecittà and Anagnina.
Some of the stops are near of points of interest for the visitor:
Cipro: Vatican Museum
Ottaviano: St. Peter's Square
Flaminio: Villa Borghese, Piazza del Popolo and Santa Maria dei Miracoli
Repubblica: Terme di Diocleziano
Vittorio Emanuele: Basilica di Santa Maria Maggiore
S.Giovanni: Basilica di S.Giovanni e la Scala Santa.
Cinecittà: To visit the famous film studios.
Spagna: Piazza di Spagna e Trinità dei Monti
Barberini: Via Veneto e la Fontana di Trevi
– Line B stations:
Rebibbia, Ponte Mammolo, Santa Maria del Soccorso, Pietralata, Monti Tiburtini, Quintiliani, Tiburtina, Bologna, Policlinico, Castro Pretorio, Termini, Cavour, Colosseo, Circo Massimo, Piramide, Garbatella, Basilica San Paolo, Marconi, EUR Magliana, EUR Palasport, EUR Fermi and Laurentina.
Line B interesting stops for the visitor:
S.Paolo: Basilica di San Paolo.
Piramide: To visit the pyramid of Caius Cestius.
Circo Massimo and Colosseo: Essential both visits.
Line C is under development but some excavations have revealed a monumental building in the time of Emperor Hadrian, so it could take some time until it is completed..
Suburban subway lines in Rome
In addition to the lines A and B, the three suburban lines operated by Met.Ro. S.p.A. act for all purposes as Metro extensions and they even use the same ticket (extra urban sections more expensive, are clearly indicated on the map).
1. Rome – Viterbo line:
This line goes from Flaminio station to Montebello Station and it hash a total of 14 stations:
Flaminio, Euclide, Acqua Acetosa, Campi Sportivi, Tor di Quinto, Due Ponti, Grottarossa, Saxa Rubra, Centro RAI, Labaro, La Celsa, Prima Porta, La Giustiniana-Villa di Livia and Montebello.
Frequency of trains varies with time between 10 – 15 minutes.
2. Rome – Pantano line:
On one side of the Termini station is the station Laziali – Pantano, also known as Rome – Pantano. In its route goes through four stations:
San Giovanni, Colosseo, Corso Vittorio Emanuele II, Via della Conciliazione and Piazza del Risorgimento (in the Prati district).
Frequency of trains varies with time between 10 – 15 minutes. In holidays maybe 30 minutes.
3. Rome – Lido line:
Lido line starts in Porta San Paolo Rome and goes to the southern coastal district of Ostia Lido (very close to Fiumicino airport).
The first part of the route is common to the Line B of Rome Subway and also these stations:
Vitinia, Acilia, Casal Bernocchi, Centro Giano and Ostia Antica. Header station is Cristoforo Colombo, next to the end of the Via Cristoforo Colombo, which leads from Rome to Ostia.
Frequency of the trains is 10 minutes and holidays and August maybe 20 minutes.
FR Lines: Ferrovie dello stato (State Trains)
Besides Rome metro and suburban lines, we can use trains FR (Ferrovie dello Stato) for urban transportation .
The tickets are valid also for railway transport, metro and bus. At present there are 8 lines with high frequency service.
FR 1: Orte-Roma Tiburtina-Fiumicino
This line starts at Orte station, and ends at Fiumicino airport (Leonardo da Vinci). This line goes through the following stations:
Orte, Gallese, Civita Castellana, Collevecchio, Stimigliano, Gavignano Sabino, Poggio Mirteto, Fara in Sabina, Pianabella di Montelibretti, Monterotondo, Settebagni, Fidene, Nuovo Salario, Nomentana, Tiburtina, Tuscolana, Roma Ostiense, Trastevere, Villa Bonelli, Magliana, Muratella, Ponte Galeria, Nuova fiera di Roma, Parco Leonardo, and Fiumicino Airport.
FR 2: Roma Tiburtina-Tivoli
Line starts at Tiburtina station and goes to Guidonia Montecelo. Stations:
Prenestina, Serenissima, Togliatti, Tor Sapienza, La Rustica-Centro, La Rustica UIR, Salone, Ponte di Nona and Lunghezza.
FR 3: Viterbo/Cesano- Roma Ostiense
Starts at Ostiense station near Viterbo. This line's stations are:
Roma Ostiense, Quattro Venti, Roma Trastevere, Roma San Pietro, Valle Aurelia, Proba Petronia-Appiano, Balduina, Gemelli, Monte Mario, San Filippo Neri, Ottavia, Ipogeo degli Ottavi, La Giustiniana, La Storta, Olgiata e Cesano. Despues de Cesano, las estaciones son: Anguillara, Vigna di Valle, Bracciano, Manziana-Canale Monterano, Oriolo Romano, Capranica-Sutri, Vetralla, Tre Croci e Viterbo Porta Romana and Viterbo Porta Fiorentina.
FR 4: Albano/Frascati/Velletri- Roma Termini
From Termini station to Ciampino. From here trains continue in regional service to Frascati, Albano Laziale and Velletri. A fourth destination, Frosinone-Cassino direction, is currently called FR6. The station that defines the urban section is Capannelle.
FR 5: Civitavecchia-Roma Termini
The line starts at Termini Station direction of Cerveteri-Ladispoli, ending upon reaching Civitavecchia. The station that defines the urban section is Aurelia station
Its stations are:
Maccarese-Fregene, Torre in Pietra-Palidoro, Cerveteri-Ladispoli, Santa Severa, Santa Marinella and Civitavecchia.
FR 6: Frosinone-Roma Termini
Line starts at Termini international station, follows the route of the FR4 til Ciampino station where heads to Frosinone and Cassino.
FR 7: Latina-Roma Termini
Line starts at Termini station and goes to Latina. First section to Campoleone is the same route than FR8.
After Campoleone stops are : Cisterna di Latina and Latina.
FR 8: Nettuno-Roma Termini
The line branches from at FR7 Campoleone, to head towards Nettuno. Common stops within the urban area are Torricola and Termini. Other stops are:
Pomezia – Santa Palomba y Campoleone, Aprilia, Campo di Carne, Padiglione, Lido di Lavinio, Villa Claudia, Marechiaro, Anzio Colonia, Anzio.
FR frequencies depends on many factors so we can't inform accurately.
Finally there is a express line going from Leonardo Da Vinci Airport (also known as Fiumicino) to Termini.
Airport – Roma Termini: no stops until Termini Central station. There is one trainevery 30 minutes. Journey time is 30 minutes. Last departure from airport at 23.35, 15 euros/ticket.
Departures from platform l 23-24, next to Termini entrance.
Rome subways: tickets and fares
BIT. biglietto integrato a tempo
Price 1,50 €. It's valid for 100 minutes from being validated and can be used in any form of public transport.
Allows multiple trips by bus and tram, but just one by Metro.
BIG . Biglietto integrato Giornaliero (Daily ticket)
It costs € 6.00 and is valid for a whole day. During that time it can be used freely under any local transportation.
Expires at 24:00 of the day it was validated.
BTI . Biglietto turistico integrato (Tourist ticket)
Price 16.50. Valid for 3 days and it can be used in all municipal transport. Expires at 24:00 of the third day after it was validated.
Note: Children up to 9 years old travel free ( must be with an adult).
Tickets must be purchased in advance, normally can not be purchased on board (only a few buses have ticket machines). But there are thousands of sale points in the city. Sold at newsstands, in subway stations, vending machines and at tobacconists (recognizable by a large T).
Tickets are validated in access control machines at metro stations and inside the buses and trams. If you dont validate your ticket you might be fined.
Where can i use my ticket?
Metro Lines A and B (managed by Met.Ro), municipal buses and trams (ATAC), regional buses (COTRAL), regional trains Rome-Lido, Rome-Viterbo, Rome-Pantano (managed by Met. Ro) and FR trains on the municipal sections.
Rome Metro schedule and timetable
From 5.30 to 23.30 (Friday and Saturday until 1:30 am).
Frequency
The frequency ranges from 3′ to 5′ in the weekends in line A and from 5′ to 7′ on weekends for Line B.
Rome Metro Map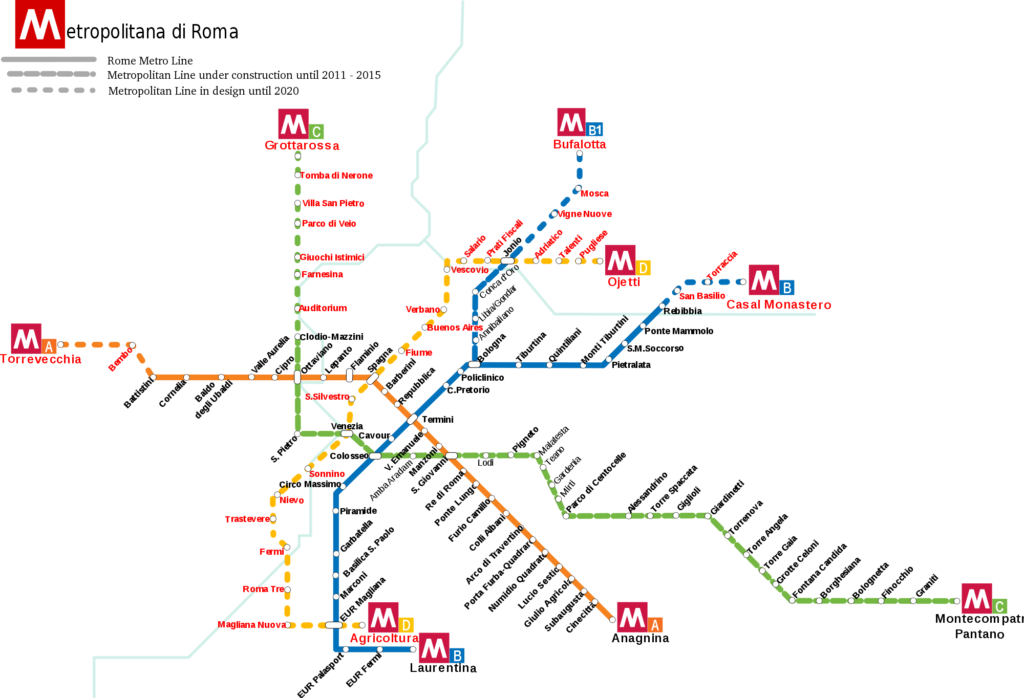 This post is also available in: French German Spanish Portuguese (Brazil)