The Hamburg's metro is known as the Hamburg U-Bahn, and it is just one part of the dense public transport system in the city, comprising: Metro (subway metro, U-Bahn) with 4 lines, 91 stations and 105 km of tracks (in 2012), Suburban trains (S-Bahn), trams and buses. Just for the U-Bahn, are traveling more than 205 million passengers each year. The Hamburg U-Bahn serve also the cities of Norderstedt and Ahrensburg.
It was inaugurated on 1912 and it is owned and operated by the "Hamburger Hochbahn AG" except the section Garstedt – Norderstedt Mitte, which is owned by the Verkehrsgesellschaft Norderstedt (VGN) but also operated by the Hamburger Hochbahn AG.
Hamburg Metro Lines
Currently there are 4 lines operating, with 91 stations and 105 kilometers of tracks.
Line
U1 – Blue Line, circulates from Norderstedt Mitte station to Ohlstedt station with a branch to Großhansdorf station. It was inaugurated in 1914 and has a length of 55.8 km and 46 stations
Line U2 – Red Line circulates from Niendorf Nord station to Mümmelmannsberg station, it was inaugurated in 1913, with 24.3 kms of length and 25 stations.
Line U3 – Yellow Line, circulates from Barmbek station to Wandsbek-Gartenstadt station, this is the oldest line, inaugurated in 1912, with 20.6 kms and 25 stations.
Line U4 – Green Line, circulates betwen  Billstedt station to HafenCity Universität, it was inaugurated in November 2012, with 12.2 kms of lenght and 11 stations.
Most important stations
The main station is the Hamburg Hauptbahnhof, as it is the central station of long distance trains, subway (U-Bahn) and suburban railway (S-Bahn). It is divided into two stations: Hauptbahnhof Süd serving lines U1 and U3 and Hauptbahnhof Nord serving the U2 and U4 lines.
Another important one is Ohlsdorf station, through which pass the U1 and S1 (train) lines.It is the nearest station to Hamburg Airport. From there is a shuttle bus every 10 minutes to get to airport enclosures.
Opening Hours
The subway schedule is 04:30 a.m. to 01:00 a.m. Sunday through Thursday, and Friday and Saturday all night long in most of its sections.
Frequency Step
Runs every 5-10 minutes in the most central lines and in peripheral U1 line it has as a frequency of up to 20 minutes. The night of Friday to Saturday and Saturday to Sunday in most of the sections run all night with a frequency of 20 minutes.
Fares and Tickets
Tickets must be purchased individually in vending machines located in different stations or on buses. The fines for traveling without a ticket or not validated one are very high.
The price depends on the zones in which we move, and for some types of tickets, also the time in which we will use.
Let´s check some fares:
Single Ticket
Adult (zone 1 and 2): between 1.55€ and 2.50€ for travelling inside Hamburg.
(The tickets can be used only for a certain period of time after validation, which in the case of a single ticket is automatic at the time of purchase. This period depends on the fare zone acquired . During the same, can interrupt the trip and if necessary change conveyance always flowing in the same direction)
1 Day Ticket
Allows unlimited travel in its period of validity. The price depends on the zones. For zones 1 and 2 (central Hamburg) it is 7.10 € and maximum areas of the HVV is 17.90€
Note: It is valid for one adult and up to three children (under 14).
3 Days Ticket
Allows unlimited travel in its period of validity. This ticket is transferable, and costs € 16.80
Ticket 09:00 a.m
This ticket is valid for unlimited travel on the date of issue for an adult and three children under 14 from 09:00 am until 06:00 am the next day and all day Saturday and Sunday. A transferable ticket. The price for zone 1 and 2 is 5.80 € and 15.30 € for the maximum of zones
Group Ticket
It is a very interesting ticket which is valid for unlimited travel for up to five people, but it is worth when using only two of them. With the same validity as Ticket 09:00 a.m. Ticket can be purchased from 10.40€
Hamburg Card
Allows unlimited use of public transport in Hamburg as well as access to various attractions and discounts. For a day costs 8.90 € , 21.90 € for three days
Children
Children under six years travel free with an adult.
More info: http://www.hvv.de/en/tickets/index.php
Airport
The Hamburg Airport is located only 9 km north of the city, in Fuhlsbüttel.
The way to access the city or the airport by metro is with the U1 Line from Ohlsdorfdesde station. There is a shuttle bus service called Airport Express 110 that connects every 10 minutes with the terminals (cost about 3 €)
You can also access the airport with regular buses: HVV 26 (Farmsen – S-Rahlstedt), 172 (Barmbek – Uhlenhorst), 292 (Langenhorn – U-Ochsenzoll) and night line 606 (Langenhorn – U-Ochsenzoll – Hauptbahnhof – Rathausmarkt), as well as express services to Hauptbahnhof Jasper, running every 15-20 minutes from 04:40 a.m to 21:20 p.m a.from the city center and from 05:39 a.m 23:54 p.m from terminals 1 and 4 of the airport
The price of a single ticket is 5 €, 8 € return, under 12, 2€. It takes approximately 25 minutes to make the journey.
Hamburg Metro Map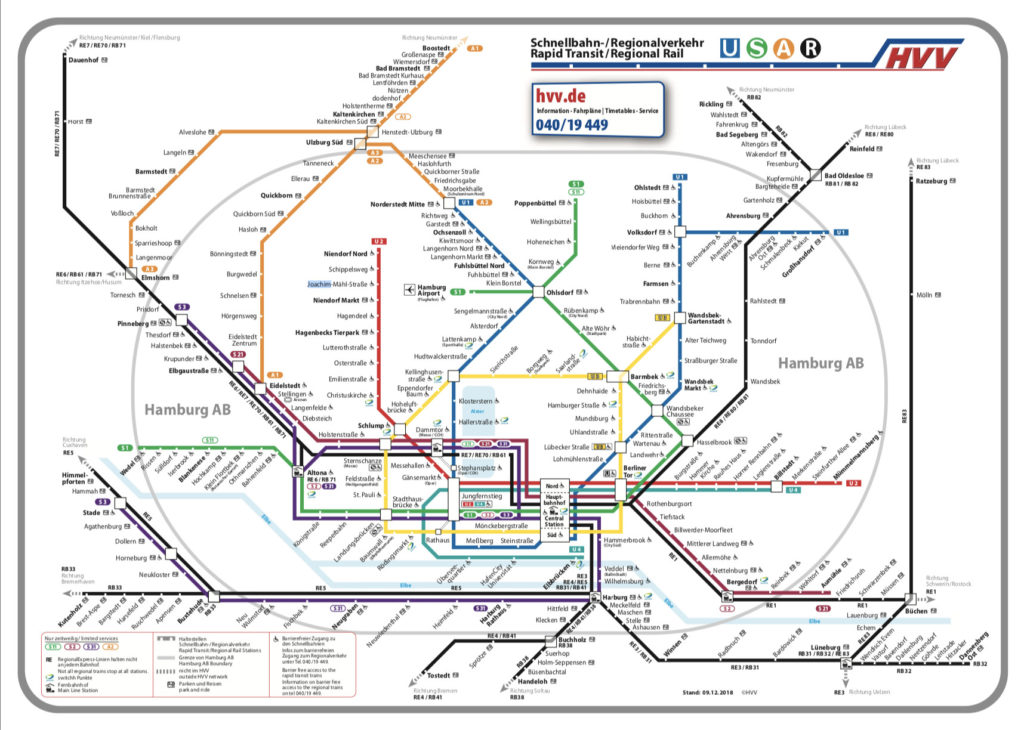 Map Via https://www.hvv.de/